Jane Welsh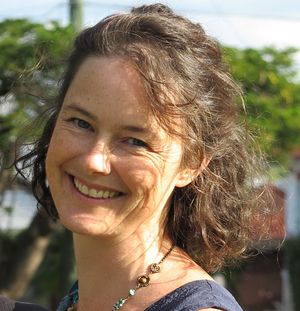 Jane Welsh
~ Trustee
I have been a Treesister from the early days. After deeply enjoying Treesister posts on facebook, my friend Pollyanna Darling offered a face to face Treesisters course called The Deepening, and I jumped in. It was a wonderful experiential course, tuning into our bodies and nature and cycles. Pollyanna asked for each participant to become a monthly donor, so I overcame my "starving artist" lack-mentality and signed up as a donor. Over the years I increased my donation as it felt so good to fund the planting of trees whilst I slept or when I was having a "bad day"!
I am a nature lover and have fond memories of my grandfather strolling around his garden in Northern Ireland telling stories about the animals who came and who he talked to, and they to him. After moving to Australia in early high school years, the Australian bush became my sanctuary, especially when the human world was too challenging.
I realised I was an artist in high school but lacked the courage and faith to take a leap to an art school in a city far away, so I chose my second passion of natural science, doing a degree in Science (Biochemistry major) and Post Grad Diploma in Nutrition and Dietetics. I worked for years as a nutritionist in Indigenous Community Health, and Public Health Nutrition at the Heart Foundation. I eventually plucked up courage to be a selling artist and began selling my work at the famous Eumundi Markets, then exhibitions and a few awards here and there. I have always been drawn to female figurative work, not knowing why. I create clay sculptures of voluptuous feminine forms, often reaching up, and paintings from abstract to photo realism, some of women and of many other things too. Before Treesisters, I was questioning why all these women, and why the reaching up? It now makes sense that I am part of the rising of the feminine. Treesisters is a great support for my feminine strength and wisdom to rise, and for my work to continue through stages of doubt. My current focus in painting is exploring our connection to nature and I have recently painted my first tree paintings. I have also been driven to paint protest paintings about the Australian Government's addiction to new thermal coal. These paintings are driven by a fire of anger and frustration in my belly and my desire to know that I have done all that I could to shift our focus from fossil fuels to renewable energy. Treesisters has helped me move through the stuckness that can happen with intense grief and anger about the ongoing destruction of our beautiful planet and I am happy to support Treesisters to have "more legs" in Australia.
I live in the Sunshine Coast Hinterland of Australia, on a beautiful property with a home studio where I create and teach art from. I am mama to two teens, and I relish in our garden, ducks on the dam and the surrounding forests and wild birds. Treesisters is the only charity I have found that really lights me up, because I can both give to a really important cause, restoring our planet, and also be lifted up, and grow within.