Kerryanne Nomzikabawo Ansari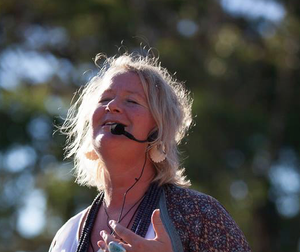 Kerryanne Nomzikabawo Ansari
~ Trustee
I am a Creative Arts Therapist and Educator with 25 years' experience working with refugees and asylum seekers, indigenous peoples and people who experience complex trauma and disadvantage.
I have a Master's degree in Creative Arts Therapy and qualifications in training, assessment and teaching English as a second language. I am also a Homeopath and a traditional healer or Sangoma.
Additionally, I have over two decades experience facilitating processed based group work, most notably for indigenous elders from the Southwest USA and with indigenous elders from the South Eastern Cape of South Africa.
I have a lived experience of anxiety and situational depression, that informs my understanding of attachment theory, strength-based approach and my capacity to sit with people in a truly trauma informed way.
The personal ethics of integrity and trustworthiness and the values of self-sovereignty, reflexivity and inclusivity govern my work practice.
Authenticity is something that I value highly. Therefore, I love tree sisters because it is an organisation that benefits those not only trying to survive, but to enjoy a better sense of belonging and community. It's an incredible honour to learn from and grow with such a deeply loving committed and emotionally intelligent community.